• Sign our petition Please sign the petition opposing the Pinehurst Western Thoroughfare through any part of Martin Dog Park.

• Steve Leaders website of the day. Steve's web site picks mentioned on "Mornings with Steve and Tim."

• General Manager/Program Directors message. Meet Steve Leader and give your feedback.

• Moore Sports with Mike Martin. Monday night's 6 pm to 7 pm, live from Bell Tree.

• Beach Trailer for sale. Our family is selling our vacation property in Emerald Isle, NC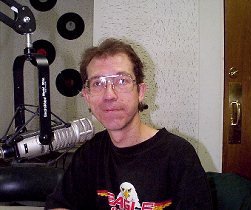 Tim joins Steve Leader every weekday morning from 7-9am for Morning Edition. Tim's wit and impersonations add to the fun of the show. Tim lives in Whispering Pines and specializes in entertainment news.

He has also appears on-stage at the Sandhills Little Theater from time to time. Slowly but surely he is leaning less and less to the left.